News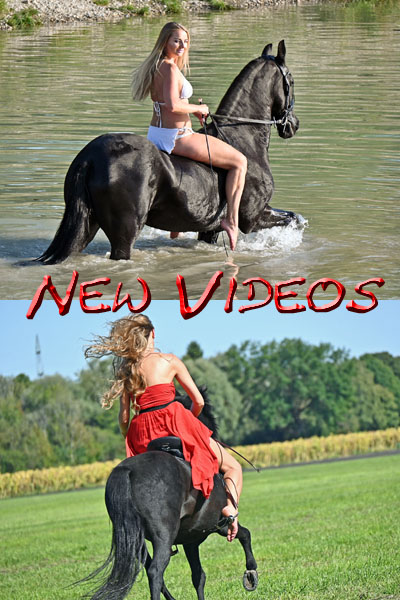 In Times of Plague...
The gone year was not easy, for nobody, also not for Riding Ladies. By Corona we had low chances for shooting new material, and besides that we met a bummy technical problem which our website.
But things may be on to change now! We can return to releasing new clips and pic series, not by fixed schedule, but regularly, like we did before. Besides to a big fund of still unreleased stuff, we plan this year also starting again to produce new, with our "stars" but also new riders.
We are back!
>> Have a look on Delilah's directory pf clips and pics
I'm still a maximum fan of pics. Contrary to other producers, pics are not a free bonus, "a worth nothing", to me they are "matter of heart" and indeed a main reason for shouldering all that efforts.
For that my pics are not for free. I know that only a few fans share my passion for pics, but that's okay for me.
Last time I met a complaint why I don't offer the pics in a bigger size. But I think, in times of smartphones, tablets and other pocket devices, the size might be okay.
>> Get pics by example of Valerie
Riding Ladies Solid Currency:
Riding Ladies Solid Currency: After involuntary winter sleep, we hope also our "live counter" will now become busy again!
Lleft of this column you can everytime find the exactly volume of our presented clips and pics! With our 235 hours of movie stuff you could by example fill up a complete month..., if you watch 8 hours every day...
>> Get Jessica's CONFIDENTIAL clip
Movies at large
Of course I know that most of riding fans prefer to see movies. So Riding Ladies will continue to give their best to produce enjoyable video clips! It's impossible to please all the fans with many different personal preferences, but only if we can be confident of our work by ourselves - we can do it really best. Intention of our work and this website is bringing fun to related souls - and our own - not making money! And in "Making NO profit" we are most successful: every earned Dollar and Euro gets re-invested in new stuff!
>> Meet Naty and learn, how she will soften a bad cop